Dark Forces
- Stephen Leather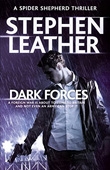 A violent South London gang will be destroyed if Dan 'Spider' Shepherd can gather enough evidence against them while posing as a ruthless hitman. What he doesn't know is that his work as an undercover agent for MI5 is about to intersect with the biggest terrorist operation ever carried out on British soil.
Only weeks before Shepherd witnessed a highly skilled IS sniper escape from a targeted missile strike in Syria. But never in his wildest dreams did he expect to next come across the shooter in a grimy East London flat.
Spider's going to have to proceed with extreme caution if he is to prevent the death of hundreds of people, but at the same time, when the crucial moment comes he knows he will have to act decisively. The clock is ticking and only he stands between us and Armageddon . . .