Desperate Measures
- Stephen Leather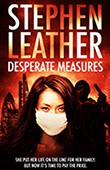 All Malee wanted was a better life for herself and her son. And the only way she could make that happen was to sell her body, to exchange sex for money. But her plan falls apart when she arrives in London at the start of the Covid pandemic. She risks everything to support her family - but as the country goes into lockdown she runs into Russian gangsters who have their own plans for her.
Before long the Russians are forcing her to work for them. If she refuses, they'll kill her. Now it's not about working for a better life - now it's a matter of survival.
This book is very different from my regular thrillers so I would suggest you have a good look at the book description - and maybe read a sample - before you buy. It has had more than its fair share of bad reviews, mainly from people who were clearly never going to enjoy this sort of book!