Fast Track
- Stephen Leather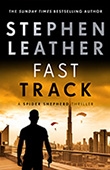 Who can you trust if you can't trust the people tasked with protecting the nation? Murderous jihadists have been crossing the English Channel, passing themselves off as asylum seekers.
MI5 have been keeping them under surveillance, but what starts as a simple terrorist takedown goes badly wrong and dozens of innocent civilians are killed in the heart of London. And the screw is tightened when a bomb takes out senior members of the Secret Intelligence Service.
Someone within MI5 has been working to their own agenda, and only Dan "Spider" Shepherd can identify the bad apple. His search for the rogue agent takes him to Turkey and then to Dubai, where his masters order him to carry out a breathtaking act of revenge.
Fast Track Reviews
Great review of Fast Track in the Financial Times
"There is no hint of liberal outrage in Fast Track by Stephen Leather (Hodder & Stoughton, £16.99). Jihadi terrorists are crossing the Channel, pretending to be asylum seekers. The security services are supposedly tracking them but the terrorists launch a series of bomb attacks in London, then murder the head of MI6. Shepherd, a former SAS soldier, is soon on their trail, jetting off to Turkey and Dubai."
"The fast-paced action scenes are expertly choreographed; the description of settings — from the luxurious bars where Ankara's gangsters gather, to Dubai's glittering skyscrapers — is brisk and richly detailed. Leather knows the inner workings of the security services. But beyond the enthralling storyline he also asks some tough questions about contemporary Britain — without preaching." Adam LeBor - Financial Times