Hard Landing
- Stephen Leather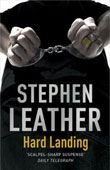 Dan 'Spider' Shepherd is used to putting his life on the line as a detective in an elite undercover squad. But when a powerful drugs baron starts to kill off witnesses to his crimes, Shepherd faces his most dangerous assignment yet – going undercover in a top security prison, where one wrong move will mean certain death.
Drugs baron Gerry Carpenter is being held on remand and is facing a long prison stretch. Customs and Excise and Drugs Squad detectives are celebrating victory over one of their most wanted targets. But the celebrations are premature. Carpenter is determined to regain his freedom and begins a campaign of terror on the outside. Witnesses are threatened, police officers killed, evidence is destroyed, and the case against him starts to fall apart.
Shepherd's mission is to find out how Carpenter is managing to run his operation from behind bars. But to do that he has to stay undercover twenty-four hours a day, seven days a week, surrounded by career criminals and psychopathic killers who can smell a cop a mile away.
And it's only as Shepherd starts to get close to Carpenter that he realises just how dangerous the man is. And how easily Carpenter can strike where it will hurt Shepherd most – at his family.
STEPHEN LEATHER WRITES
Hard Landing marks the debut of SAS-trooper turned undercover cop Dan 'Spider' Shepherd, who I hope to use in future thrillers. The last hero I used in several books was Mike 'Joker' Cramer who appeared in The Chinaman, The Long Shot and The Double Tap. I always regretted killing him off, and I won't make the same mistake with Spider Shepherd.
The idea of writing about an undercover cop came from a writing job I did for the BBC on a show called In Deep starring Nick Berry and Stephen Tomkinson. The producer ended up totally rewriting my script (and ruining it in the process) but all the research I did on undercover police work and prisons came in useful with Hard Landing.
In Deep was cancelled (hardly surprising, the last series was awful) so maybe one day we'll see a TV series based on Shepherd. With Shepherd, I wanted a policeman who could also take part in military scenarios, so I gave him an SAS background. I also had the idea of making him the father of a young son, so that we see him as a real human being and not just an action figure.
So far as research went, I spent a day inside Belmarsh Prison in South London. The prison authorities were really helpful, and even drew me a map of the institution. I was given a free run of the place and all my questions were answered. I also visited Shepton Mallet Prison in the West Country and spent time with a group of lifers. Turns out that I'm one of the most borrowed writers in the British prison system!
Hard Landing also marks the return of several other characters from previous books, including Major Allan Gannon of the SAS and former SAS trooper Martin O'Brien who both appeared in The Double Tap, and surveillance expert Alex Knight (Tango One) who might well one day get a book of his own.
Following publication I went on a two-week tour of British prisons, talking to inmates about my book and about writing. It was a great experience, I got great feedback from readers, and got to met characters I'm sure will feature in future books. One of the guys I met didn't think you could blow the doors of a prison down with a rocket-propelled grenade, which I have happen in Hard Landing, and he sounded like he knew.
Hard Landing Reviews
"Take two crime writers and a bunch of lifers. What happens next? Stuart Jeffries finds out" bold
"There are a few simple rules for writing a good crime novel, novelist Michael Jecks tells his audience of murderers and sex offenders. For example, you've got to have a murder before page 60. That's not very difficult - just bump someone off around page three. Some of the men nod slowly, as though making a mental note: 'Must kill quicker.'"
""
""
""
""
""
""
""
""
""
""
""
""
""
""
"" © The Guardian Newspaper
"The Irish Independent Writes" bold
""
""
""
""
""
""
""
""
""
""
""
""
""
""
""
""
""
""
""
""
""
"" © Irish Independent