Hot Blood
- Stephen Leather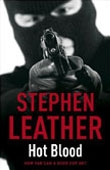 Dan 'Spider' Shepherd is used to putting his life on the line. It goes with the turf when you're an undercover cop. Now working for the Serious Organised Crime Agency, Shepherd is pitting his wits against the toughest criminals in the country. But when the man who once saved his life is kidnapped in the badlands of Iraq, thrown into a basement and threatened with execution, Shepherd has to decide whether his loyalties lie with his country, his career, or his friend.
Shepherd and his former SAS colleagues realise that the hostage has been abandoned by the Government and that officially nothing is being done to rescue him. And with the execution deadline a few days away, Shepherd knows that the only way to save the life of his friend is to put himself in the firing line in the most dangerous city in the world – Baghdad.
STEPHEN LEATHER WRITES
Hot Blood is the fourth book to feature SAS trooper turned undercover cop Dan 'Spider' Shepherd, and I think the character is getting better and better. Although he is an undercover cop, I wanted to take him outside the UK and in Hot Blood I have him flying to Dubai and Baghdad. I went to Dubai on a three-day press trip promoting Cold Kill and I took the opportunity to do lots of research. It's a curious place, like a massive building site in the midst of a desert, and I really don't understand why so many Westerners are rushing to buy there. A former Fleet Street journalist, John Deykin, showed me around the city's nightspots, and while none of that 'research' made its way into the book, I did have a great time.
I thought long and hard about going to Baghdad. I could have gone, no question of that, I have plenty of friends and contacts who work there who would have been happy to have taken me in. But it's just so bloody dangerous. The risk of car bombs and IEDs (improvised explosive devices) is bad enough, but add to that the risk of being kidnapped and it was just too dangerous. It's one thing to write about being beheaded, quite another to be locked in a basement knowing that your head is going to be hacked off.
So, no, I didn't go to Baghdad to do the research. I read lots of magazine and newspaper articles about Iraq, and hit the internet with a vengeance. I watched as many movies set in post-Saddam Iraq as I could get hold of, and spoke to my friends about what life is like there. I was also lucky to be put in touch with an American, James 'Jesse' Kibbee Jnr, who had worked in Iraq for a logistical company. Jesse was kind enough to let me read the journal of his experiences and it was a big help in giving me a feel for what life is like in that most dangerous of countries.
There's an American character in the book called Richard Yokely, a shady former CIA guy who now works for a black ops department of Homeland Security. He's great fun to write and I plan to have him making regular appearances in the Spider Shepherd books. Ditto with Charlotte Button, the former MI5 agent who now heads up the SOCA undercover unit. I'm thinking about doing a novel with her as the central character.
I am really enjoying writing about Spider Shepherd. He gets promoted to Detective Sergeant at the end of Cold Kill, and I plan to make him up to Detective Inspector within the next couple of books. The one thing I won't be doing is killing him off. I made that mistake with Mike 'Joker' Cramer who appeared in The Chinaman, The Long Shot and The Double Tap. But Spider is going to run and run.
Hot Blood Reviews
"A former SAS man turned undercover cop has 14 days to find a kidnapped colleague in Iraq before he is beheaded by hardline Islamic terrorists. A brilliant read that stands out of the morass of so-so military thrillers around nowadays." News Of The World
"The latest of his tough-talking thrillers has regular character 'Spider' Shepherd move away from his regular role as an undercover cop to join a mission to rescue a former colleague from Iraq. The man, to whom Shepherd owes his life, is the hostage of fanatics who are going to behead him when (rather than if) their demands aren't met. As the mission picks up pace, Shepherd must decide whether the end justifies the means, which include rendition flights and torturing innocent people. Leather may have bitten off more than he can chew in trying to deal with contemporary Iraq, partly because things change so quickly there from month to month, but that's not to say that Hot Blood is a failure. As usual, the strength is in visceral action scenes and, for those who like them, a lot of details about weapons, bullets and surveillance equipment. Authentic stuff." Peter Guttridge, The Observer
"Crime that's no so much hard-boiled as vitrified. Leather's latest story is a gritty mission of mercy set in Iraq. When Dan 'Spider' Shepherd, a former SAS paratrooper turned undercover cop, learns that a former colleague who once saved his life has been captured in Baghdad by a group called the Holy Martyrs of Islam, he's determined to extricate him. Working to a 14-day deadline before his friend is beheaded, Shepherd dives in head first and defies all the rules in his outrageous rescue mission." The Herald
"Happy endings are never an option in a Stephen Leather thriller. In his latest, a journalist is taken hostage by Iraqis. Worse, he is given a copy of The Da Vinci Code to read. The manner of his death is horrifyingly graphic. It is better you read it on an empty stomach. Enter, with a bound, Dan 'Spider' Shepherd, former SAS member turned undercover cop. One of Shepherd's old SAS colleagues, Geordie Mitchell, is taken hostage by the same group calling themselves The Holy Martyrs of Islam. Martyrs in a pig's eye; this is all about money. They are thugs taking hostages and selling them to religious fundamentalists. As good as anything Leather has ever turned out." Tom Widger, Sunday Tribune
"Stephen Leather's strongpoint has always been his ability to pitch his novels at a bang-up-to-the-minute level. Hot Blood is no exception." Yorkshire Evening Post
"As the author of no-nonsense action thrillers such as Cold Kill, Soft Target and Tango One, Stephen Leather has developed a solid fan base. He's unlikely to shed any of his regular readers with this latest offering where the gritty hero again tackles the odds." Evening Herald
"Hard-boiled action adventure all the way." Irish Independent Review