Killing Time
- Stephen Leather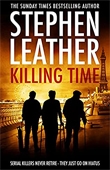 Serial killers never retire. They just go on hiatus. The urge to kill is always there, bubbling below the surface.
Billy and Charlie thought their killing days were behind them. They used to be prolific life-takers, but old age finally caught up with them.
Now they are ending their days in a dismal nursing home in Blackpool, with only their memories to keep them going. Memories of murder and mutilation.
But when Archie turns up at the home, everything changes. Archie is a breath of fresh air and he puts new life into Billy and Charlie - and before long they realise that it's time to start killing again.