Light Touch
- Stephen Leather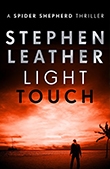 Working undercover is all about trust - getting the target to trust you and then betraying them in order to bring them to justice.
But what do you do when you believe an undercover cop has crossed the line and aligned herself with the international drugs smuggler she was supposed to be targeting?
When Lisa Wilson stops passing on intelligence about her target, MI5 sends in Dan 'Spider' Shepherd to check that she's on the straight and narrow.
Now the lives of two undercover operatives are on the line.
STEPHEN LEATHER WRITES
I used to be a keen sailor and I put a lot of my sailing knowledge into the book. Maybe too much! A big chunk of the book takes place in St Lucia and Marbella and I spent time in both places for research. I also had a great time, obviously! I think I could happily live in Marbella. Maybe one day…