Rogue Warrior
- Stephen Leather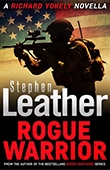 No one knows for sure who Richard Yokely worked for in the past - the Army, the CIA, DEA, NSA – he has carried out missions for them all.
But now he works for Grey Fox, the super secret agency that takes care of business that the White House would prefer to keep under wraps.
A vicious killer has been attacking schools in America, killing without mercy. And when it looks like the killer might be a former special forces soldier who has gone rogue, Yokely could be the only man who can stop him.
Praise for Stephen Leather's Dan 'Spider' Shepherd series:
"Let Spider draw you into his web, you won't regret it." The Sun
"The sheer impetus of his storytelling is damned hard to resist." Daily Express
"A master of the thriller genre." Irish Times