Russian Roulette
- Stephen Leather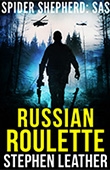 Russian Roulette is an action-packed novella featuring Dan 'Spider' Shepherd during his SAS days, before he signed up as an undercover cop and worked for MI5.
The Soviet Union has collapsed, but Russia is still very much a threat on the world stage.
Russian troops are preparing to cross the border into Belarus, threatening its independence. The only thing facing them are an armed partisan group but they are poorly trained and will be no match for the Russians.
The British Government wants an independent Belarus as a buffer against Russian expansion - so Shepherd is despatched with a crack SAS team to help the partisans. The mission is covert, deniable, and dangerous.
And as the Russians prepare to attack Belarus, assassins are at work, carrying out an audacious series of killings. All the victims are supporters of Boris Yeltsin, the first President of Russia. But the killings are only the prelude to a final assassination - someone wants President Yeltsin dead. And it's up to Shepherd and his team to ensure that doesn't happen.