Tall Order
- Stephen Leather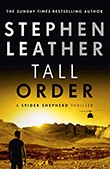 He is one of the world's most ruthless terrorists, codenamed Saladin. He plans and executes devastating attacks and then, ghost-like, he disappears.
Ten years ago he blew a plane out of the sky above New York - and now he's killed dozens in a London strike.
But one of the latest victims is related to the acting head of MI5, who knows exactly who she wants on the case: Spider Shepherd.
Dean Martin, a psychologically damaged former Navy SEAL, is the only person in the world who can identify Saladin. But Martin was killed ten years ago - wasn't he?
Shepherd must find Martin and take him back to the killing fields on the Afghanistan-Pakistan border.
Revenge on the world's most wanted terrorist is long overdue, and Shepherd is determined to be the one to deliver it.
STEPHEN LEATHER WRITES
I had a lot of fun writing Tall Order, partly because it gave me the chance to explain what had happened in one of my previous Spider books, Live Fire. There were several loose threads in that book and I was able to tie them all together in Tall Order. I was also able to use Richard Yokely to good effect. Yokely is a great character, he's been in several Spider books and I am planning to use him in his own story at some point.