Tennessee Night
- Stephen Leather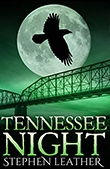 Children are killing themselves across the State of Tennessee. Is it a horrible coincidence, or are dark forces at work? When Jack Nightingale learns that there is a mysterious list of children who are at risk, he takes the case, spurred on by the fact that he knows one of the names and that makes it personal.
His investigation brings him up against a demon from Hell who is being used on a mission of revenge. But if Nightingale is to save the children, and his own soul, he'll need help from an old adversary.
STEPHEN LEATHER WRITES
It's always fun revisiting Jack and I wish I could write more stories about the supernatural detective. The problem is that while Jack has a very strong and vocal fan club of loyal readers, the Jack Nightingale books simply don't sell as well as the Spider Shepherd books. And truth be told, it's harder to write a Nightingale book than a Shepherd book because Shepherd books tend to follow the newspaper headlines and are usually based on what happens in the real world but Nightingale stories by their very nature are all made up and they require a great deal of imagination. Jack as a character is fairly easy for me to write as he has my sense of humour, but the world he lives in is a very difficult one to construct. But I definitely want to write more!