The Basement
- Stephen Leather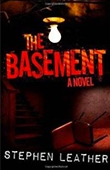 New York is a city full of strangers. For NYPD detectives Turner and Marcinko, none are harder to figure out than the serial killer on the loose torturing and killing young women. In fact, right now, somewhere in the city, a woman is being held captive in a basement and it is up to the detectives to find her and the killer—before it's too late.
As pressure mounts on Turner and Marcinko, their prime suspect is screenwriter wannabe Marvin Waller. He is becoming increasingly frustrated by his lack of success and the cops think he might be channelling his anger into murder—but he doesn't seem to be at all concerned that they are hot on his trail. As Turner and Marcinko close in on Waller they have to wonder: is he the killer? And if he isn't—who is?
STEPHEN LEATHER WRITES
The Basement was a bestseller – a true bestseller, it topped the Kindle charts in the US and the UK – and is still one of Kindle's top selling books of all time. It was so successful that Amazon pretty much insisted on taking it off me and publishing it themselves. They took The Basement and Once Bitten off me and now publish them through their 47 North publishing arm. I had great fun writing The Basement and I think it has one of the best twists of any of my books!