The Hunting
- Stephen Leather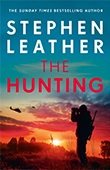 Can a doctor take lives instead of saving them?
British doctor Raj Patel puts his own life on the line to treat the injured in war-torn Syria. His medical skills help casualties survive against all the odds.But Raj needs to rely on a completely different set of skills when he is taken hostage in a dangerous case of mistaken identity.
Billionaire big-game hunter Jon van der Sandt is driven by revenge - his family have been killed by jihadist terrorists and he wants his vengeance up close and personal. He has hired ex Special Forces hard men to snatch the ISIS killers from the desert and transport them halfway across the world to the vast wilderness of his American estate.
But they grab Raj by mistake, and once the killing begins it's too late to plead mistaken identity. To survive, he'll have to become as ruthless a killer as the man who is hunting him.