The Sandpit
- Stephen Leather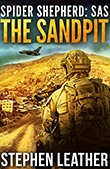 Dan Shepherd and his SAS team are sent into the badlands of Afghanistan to train the rebels who are battling Taliban fanatics.
But what starts as a training mission in The Sandpit turns into a life or death struggle with Shepherd and his team very much in the firing line.
STEPHEN LEATHER WRITES
Lots of action and gun stuff, it's always fun to see what Shepherd was like when he was in his twenties.
Hopefully there'll be more stories set back when he was an SAS trooper.