The Shout
- Stephen Leather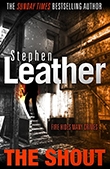 Vicky Lewis is a force to be reckoned with: not yet thirty and already crew manager in the London Fire Brigade, she's destined for great things.
But when she enters a burning building to save a man's life and leaves it with catastrophic injuries, all that changes. She's shunted over to the Fire Investigation Unit, where she's forced to team up with cantankerous veteran Des Farmer, aka the Grouch.
When Vicky stumbles across the Grouch's off-the-books investigation into the fiery deaths of a series of young, blonde women, she decides to join him in his search for the truth.
The answer is close - perhaps too close. Vicky's already been burnt once, and now she's playing with fire.
STEPHEN LEATHER WRITES
I had great fun researching this book. I was able to spend a day training with real firefighters, and went with them into a training fire wearing the full gear and breathing apparatus. It was awesome and an experience I will never forget. They let me use a line – what they call the hose – to put out a fire, and I now realise just what a difficult job they do.
I also spent time with Fire Brigade fire investigators and spent a lot of time researching fires and how they start and spread. Vicky is a terrific character and I'd love to bring her back in a future book.