The Whisper Man
- Stephen Leather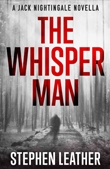 He's charming and good looking, he makes you laugh and he has a twinkle in his eyes. He's the sort of guy you'd be happy to spend time with. Until the moment when he asks you if you want to know a secret. You say yes, of course, and you lean towards him. That's when he whispers in your ear and everything changes. Within hours you are dead and your soul is gone forever. You've just met The Whisper Man.
When supernatural detective Jack Nightingale hears about a rash of suicides across London, he realises that it's more than a coincidence. Something has come from the bowels of Hell to wreak havoc in the world, and only he can stop it.
But to do that he'll have to put his own soul on the line. And to make his life even more complicated, the police have found a book full of names of people who have been marked for death. And Nightingale's name is in it.