Triggers
- Stephen Leather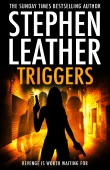 Marianne is an assassin. One of the best in the business.
Except killing isn't her business - it's her way of getting revenge. Revenge that has been a long time coming.
But there are dark forces who want to use Marianne for their own ends. Dark forces who will do whatever is necessary to acquire her skills.
But what they don't know is that Marianne has a secret. A secret that could be the death of them all.
There are a couple of amazing twists in this story that I don't think anyone will see coming!